Artwork for sale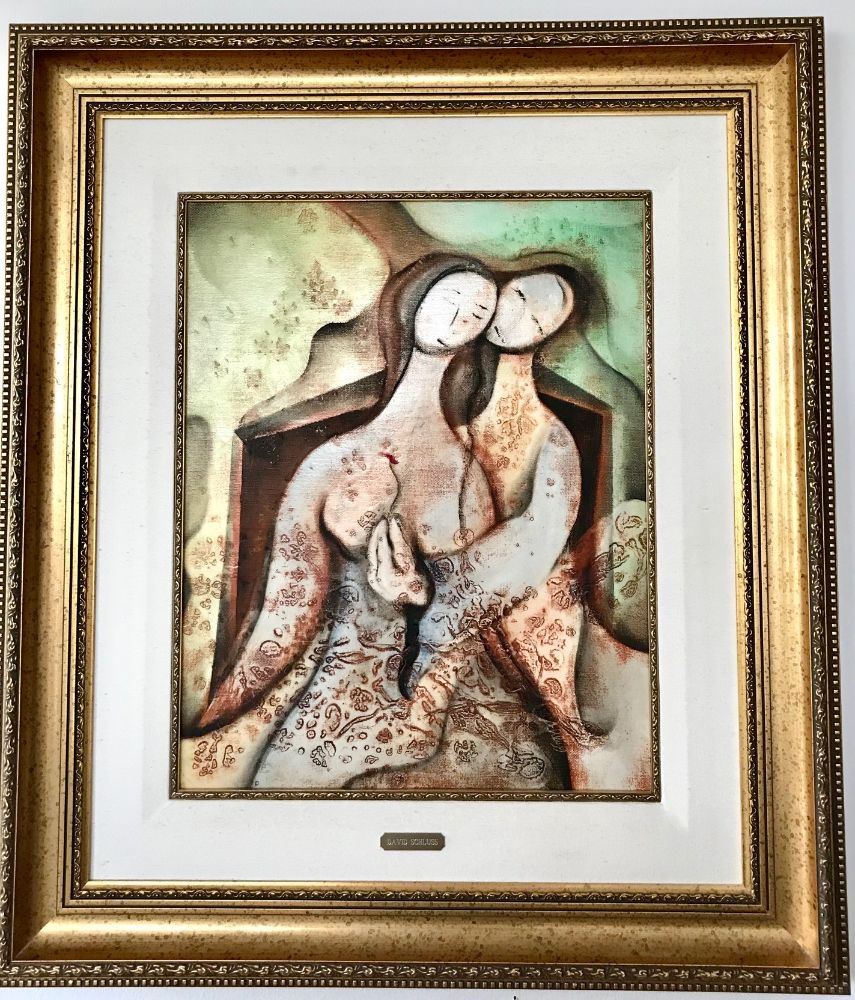 Seller type:

Collectionneur / Amateur d'art

Style:

Abstrait

Category:

Peinture originale

Title:

Romance

Medium:

Peinture sur toile

Size:

16 x 20" | 41 x 51 cm

Year:

1980

State:

Parfait

Signature:

Signé à la main par l'artiste à l'avant

Certificate include:

Oui

Exchange possible:

Non

Seller's City / Region:

Montreal

Province:

Québec
Magnifique Peinture originale sur toile David Schluss "Romance" 1980
"Avec la paume de mes mains je peux obtenir un jeu de lumière
que je ne pourrais jamais réaliser avec un pinceau.
Je commence par l'abstrait et les idées émergent "
David Schluss
Né en Israël en 1943 Artiste Peintre semi-réaliste
David Schluss ne peint qu'avec ses mains.
Utilisant ses doigts comme pinceaux, il sculpte des images.
Signature: signé à la main par l'artiste.
Cadre de luxe est inclus
Original sur toile
Titre: Romance
L'œuvre est en excellent état.
Date de création: 1980
Prix de vente spécial: $7,500.00 – Negociable
Un bon rapport qualité prix offert ici!
Vous ne trouverez pas mieux
une peinture de David Schluss à un meilleur prix.
Collection privée
Provenance: Galerie de l'Isle – Montréal, CANADA
Avec cadre: 31 x 27 "| 79 x 69 cm
Sans cadre: 16 x 20 "| 41 x 51 cm
Pour plus d'informations, contactez-nous
Tel: 514-288-1133
Negociable. Offre serieuse sera consideree.
Beautiful Original from artist David Schluss Painting on canvas Romance 1980
"With the palm of my hands I can get a play of light
that I could never achieve with a brush.
I start with the abstract, and figures emerge"
David Schluss
Born in Israel in 1943 semi realistic Artist
David Schluss paints only using his hands.
Using his fingers as paintbrushes, he sculpts out images.
Signature: Hand-signed by artist.
Superb Luxury Frame Included
Original on Canvas
Title: Romance
The Artwork is in excellent condition.
Date of Creation: 1980
Special Selling Price: $7,500.00 – Negotiable
A great value here! You will not find a better
David Schluss painting at better price.
Private Collection
Provenance: Galerie de L'Isle – Montréal, CANADA
Size :
With Frame: 31 x 27″ | 79 x 69 cm
Without Frame: 16 x 20″ | 41 x 51 cm
For more information, please contact us.
T:514-288-1133
Serious offer will be considered – Negociable
ArtAds.ca is not a broker or auction service. No commissions or other fees are charged on sales made possible by using this site. To buy or obtain details about a work of art, you can contact the advertiser directly, without intermediaries.