Artwork for sale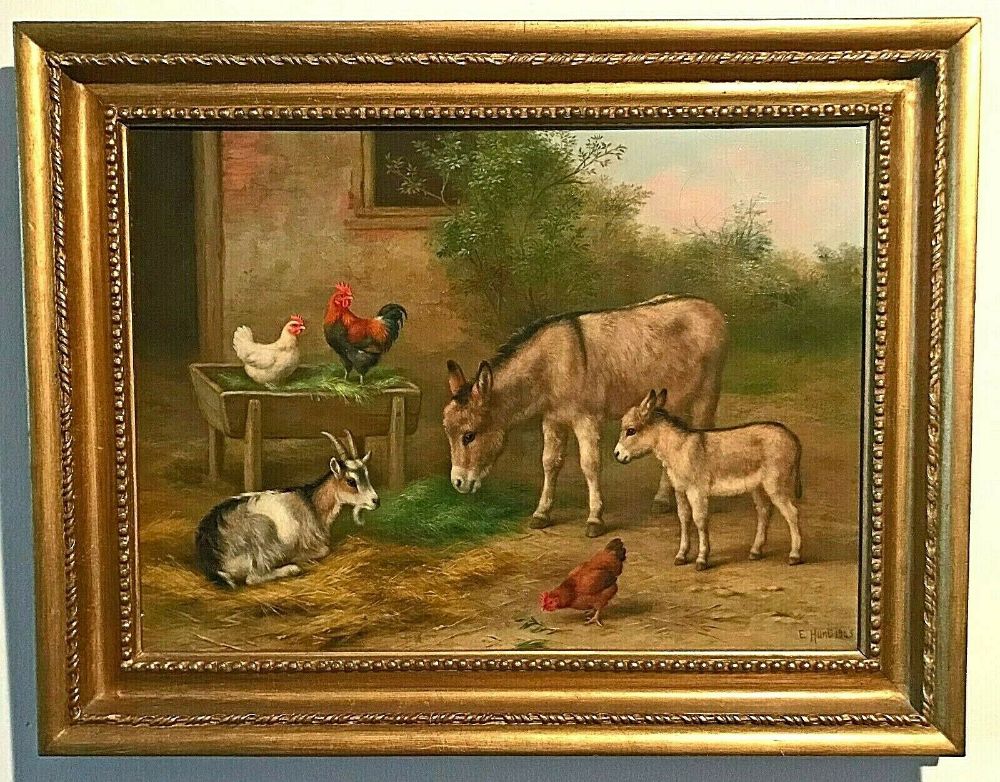 Seller type:

Collectionneur / Amateur d'art

Style:

Figuratif

Category:

Peinture originale

Title:

Scène de ferme avec poules, chèvre et ânes

Medium:

38 cm | 15"

Size:

15" x 11"

Year:

1943

State:

Parfait

Signature:

Signé à la main par l'artiste à l'avant

Certificate include:

Oui

Exchange possible:

Non

Seller's City / Region:

Montreal

Province:

Québec
EDGAR HUNT (Anglais, 1876-1953)
Scène de ferme avec poules, chèvre et ânes
Signé et daté 1943 en bas à droite
Dimensions: 15 "L x 11" H
(Avec cadre: 18.5 "lx 14.5″ h)
Prix de vente spécial: 12,500,00 $C
Un bon rapport qualité prix ici! Vous ne trouverez pas mieux
de peinture d'Edgar Hunt à meilleur prix.
Collection privée
Très bonne condition
Provenance: MacConnal-Mason & Son Ltd
Londres, Angleterre
Edgar Hunt Biographie
Né à Birmingham en 1876, l'artiste Edgar Hunt a
peint des représentations réalistes d'animaux de ferme.
Beaucoup d'œuvres d'art d'Edgar Hunt à vendre
sont des peintures minutieusement détaillées
de la vie de volaille dans sa propre ferme.
Il a montré 11 tableaux à la Royal Society of Artists à Birmingham.
NEGOCIABLE
EDGAR HUNT (British, 1876-1953)
Farmyard scene with Pecking Chickens, Goat and Donkeys
Signed and dated 1943 lower right
Dimensions: 15″ W x 11″ H
(With Frame: 18.5″ W x 14.5" H)
Special Selling Price: C$12,500.00
A great value here! You will not find a better
Edgar Hunt painting at better price.
Private Collection
Very Good Condition
Provenance: MacConnal-Mason & Son Ltd
London, England
Edgar Hunt Biography
Born in Birmingham in 1876, artist Edgar Hunt painted
realistic depictions of farm animals.
Many of Edgar Hunt's artworks for sale are meticulously
detailed paintings of poultry living
on his own farm. He did show 11 paintings at the
Royal Society of Artists in Birmingham.
ArtAds.ca is not a broker or auction service. No commissions or other fees are charged on sales made possible by using this site. To buy or obtain details about a work of art, you can contact the advertiser directly, without intermediaries.