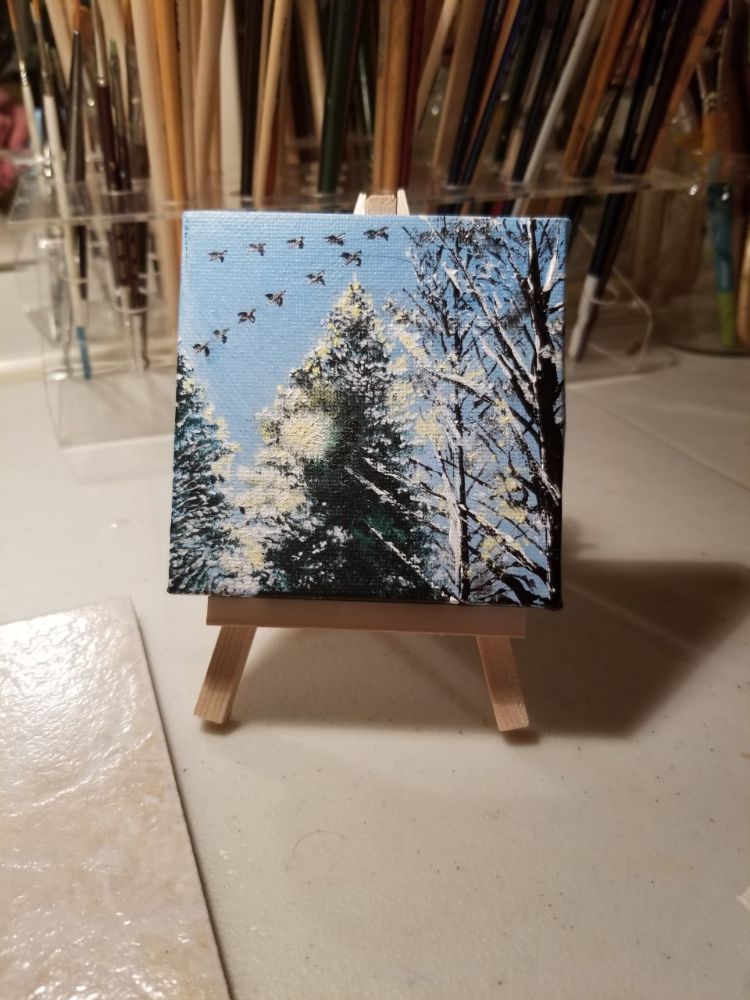 Seller type:

Directement de l'artiste

Style:

Figuratif

Category:

Peinture originale

Title:

Les outardes (no. 15)

Medium:

peinture acrylique

Size:

4'' x 4'' (10 cm x 10 cm) avec chevalet

Year:

2021

State:

Parfait

Signature:

Signé à la main par l'artiste à l'avant

Certificate include:

Non

Exchange possible:

Non

Seller's City / Region:

Repentigny

Province:

Québec

Price:

Log in to see the price
Prix: 75$ quennevilleclaude@outlook.fr
Toile miniature de 4 » x 4 » (10 cm x 10 cm) avec chevalet inclus.
Né à Montréal, je m'intéresse très jeune au domaine des arts. Je suis diplômé avec mention de l'Institut des arts graphiques du Québec en 1972. J'étudie aussi d'une façon autodidacte l'histoire de l'art.
Graphiste-concepteur durant 30 ans. Ma passion pour les arts me pousse à explorer d'autres formes artistiques. Lors des années 1970, je me découvre une passion pour la peinture et quelques œuvres à l'aquarelle ont été exposées à Hydro-Québec avec succès.
En 1985, je suis choisi par le Gouvernement du Canada avec 13 autres graphistes à suivre le premier cours pilote en infographie au Cégep André Laurendeau. J'ai fini premier en graphisme et traitement de texte.
En 1990, j'ai créé des œuvres avec la technique du collage qui m'a valu du succès auprès des décorateurs.
En 1995, je découvre l'huile sur toile. J'ai peint beaucoup de toiles dont la majorité ont été vendues au Québec et en France en faisant peu d'expositions.
Toujours avec passion, j'explore maintenant de nouveaux styles avec l'acrylique en créant des toiles miniatures.