Artwork for sale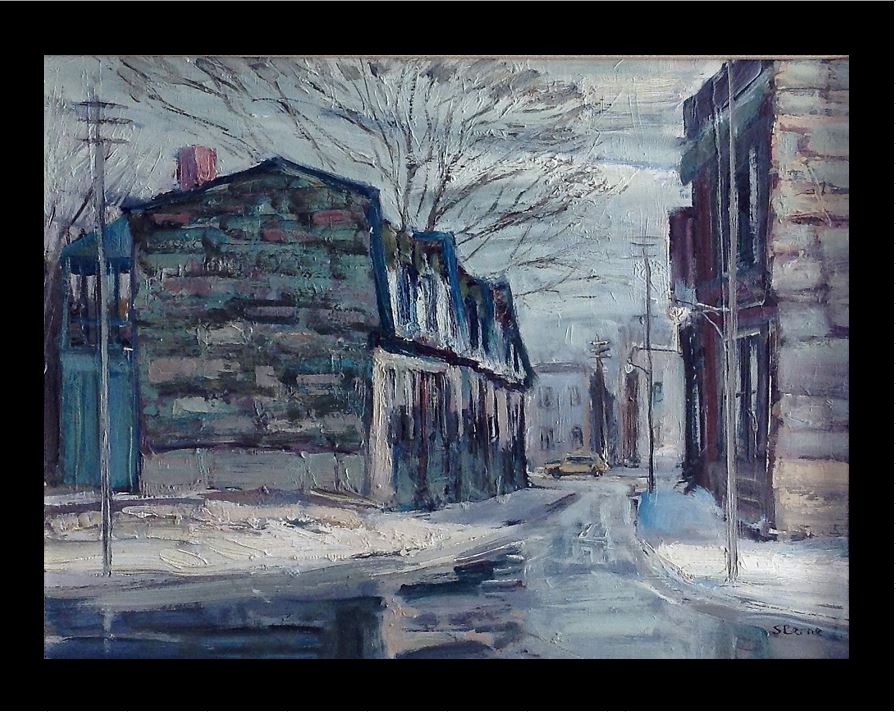 Seller type:

Collectionneur / Amateur d'art

Style:

Figuratif

Category:

Peinture originale

Title:

rue des Seigneurs, Montréal, 1968

Medium:

Huile sur isorel

Size:

12 x 16 po.

Year:

1968

State:

Parfait

Signature:

Signé à la main par l'artiste à l'avant

Certificate include:

Non

Exchange possible:

Non

Seller's City / Region:

Boucherville

Province:

Québec
English below
Prix : 370 $ (taxes incluses)
Ce tableau peut être expédié partout au Québec par courrier recommandé dans un caisson de bois fait sur mesure pour un total de 38 $ (taxes et assurances incluses).
Notre collection personnelle de tableaux est à vendre à
www.magaleriedart.ca
De nombreux tableaux offerts à prix imbattables.
Sydney Berne (1921 – 2013)
Rue des Seigneurs à Montréal, 1968
Magnifique scène de Montréal en hiver qui mérite d'être contemplée en buvant un verre de vin et en écoutant du Leonard Cohen.
Cet artiste a bâti sa réputation en peignant des scènes de forêt hivernales mais ce sont ses scènes de ville qui sont les œuvres les plus recherchées par les collectionneurs car l'artiste a su bien saisir l'âme qui habite Montréal. Il a une façon bien à lui de nous montrer Montréal comme la rue de ce quartier de la Petite-Bourgogne saisi par la froidure projetant une lumière très particulière créée par la neige et la glace au sol.
Cet artiste était habité par l'hiver. On sent le froid humide sur ce tableau et remarquez comme la route glacée est bien exécutée. Un petit bijou pour les amoureux de Montréal.
Les scènes de ville de Sydney Berne sont rares et il est très difficile d'en dénicher en galerie ou via les encans. Cette œuvre est un must pour les collectionneurs de tableaux vintages ou les nostalgiques à la recherche de scènes de Montréal qui n'existent plus.
_____________________________________
Price : 370 $ (taxes included)
This painting can be shipped anywhere in Canada via registered mail in a custom-made wooden crate for a total of 48 $ (taxes & insurance included).
Our personal art collection is for sale at www.magaleriedart.ca
Many paintings at unbeatable prices.
Sydney Berne (1921 – 2013)
Rue des Seigneurs, Montreal, 1968
Beautiful Montreal scene in winter that deserves to be contemplated while drinking a glass of wine and listening to Leonard Cohen.
This artist has built his reputation by painting scenes of winter forest but it is his city scenes that are the most sought after by collectors because the artist knew how to capture the soul of Montreal. He has a particular way of showing us Montreal such as this street in the district of la Petite-Bourgogne seized by the cold projecting a very special light created by snow and ice on the ground.
This artist was inhabited by winter. One feels the damp cold on this board and notice how the icy road is well executed. A gift for lovers of Montreal.
The city scenes of Sydney Berne are rare and it is very difficult to find any in art galleries or via auctions. This work is a must for collectors of vintage paintings or nostalgic Montrealers in search of scenes of Montreal that no longer exist.
ArtAds.ca is not a broker or auction service. No commissions or other fees are charged on sales made possible by using this site. To buy or obtain details about a work of art, you can contact the advertiser directly, without intermediaries.