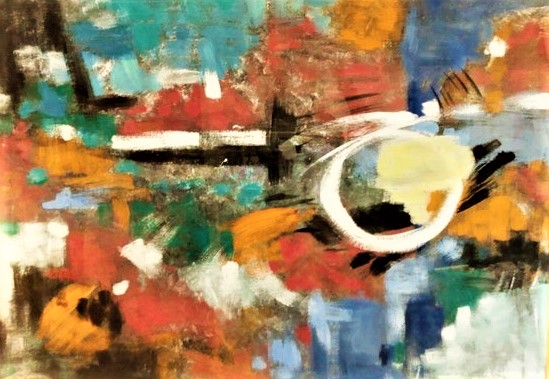 Seller type:

Marchand d'art

Style:

Abstrait

Category:

Peinture originale

Title:

Abstrait

Medium:

Acrylic and watercolour on rigid paper

Size:

29.5×39.5

Year:

1991

State:

Parfait

Signature:

Signé à la main par l'artiste à l'avant

Certificate include:

Non

Exchange possible:

Oui

Seller's City / Region:

Montreal

Province:

Québec

Price:

Log in to see the price
Peindre depuis plus de 40 ans, l'abstrait magnifiquement audacieux et intense des techniques mixtes de Marcelle Hamelin livre ce pour quoi elle est renommée.
« J'ai consacré ma vie à la création. Je suis perçu comme un artiste fougueux. spontané. Je me démarque par une panoplie de couleurs effervescentes, créant ainsi une diversité de texture...." Marcelle Hamelin
Painting for more than 40 years Marcelle Hamelin's beautifully bold and intense mixed media abstract delivers what she is renowned for.
"I have dedicated my life to creation. I am perceived as a fiery artist. spontaneous. I stand out with a panoply of effervescent colors, thus creating a diversity of texture...." Marcelle Hamelin