Artwork for sale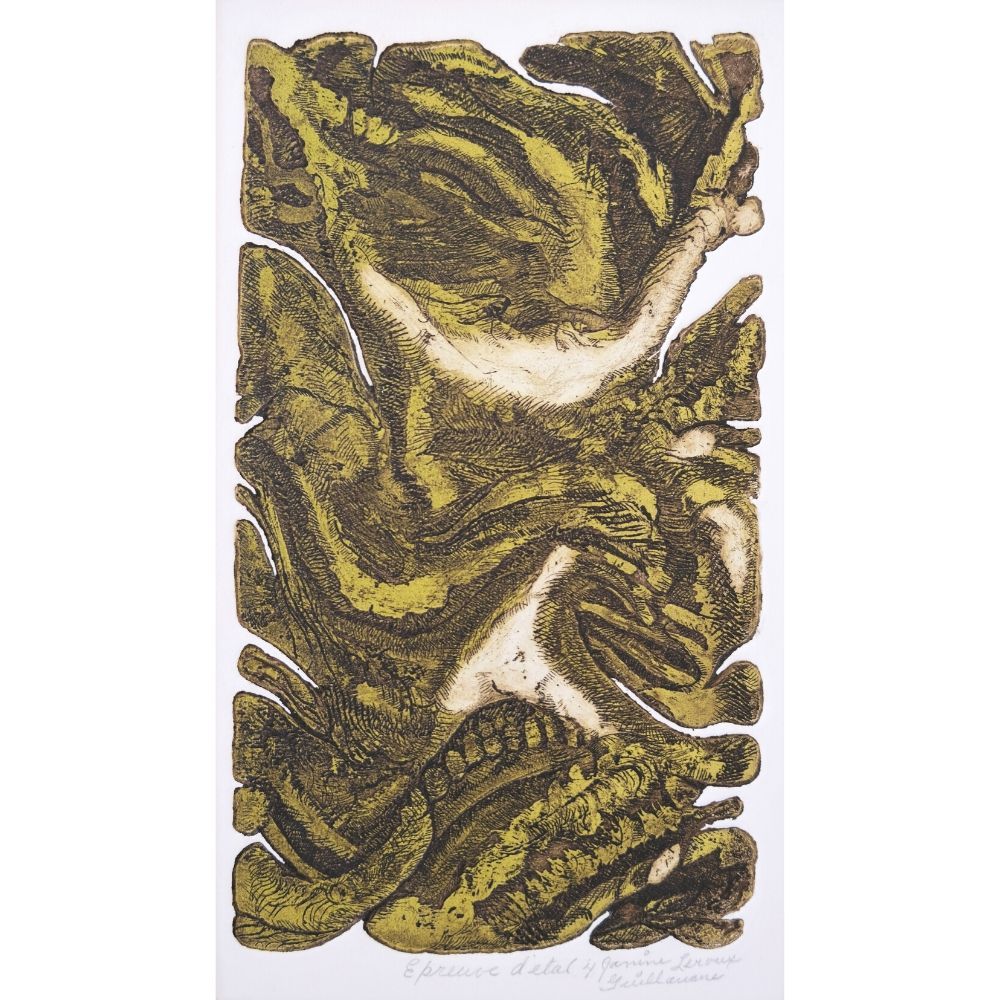 Seller type:

Marchand d'art

Style:

Abstrait

Category:

Sérigraphie, Lithographie, Gravure

Title:

"Défi dans l'enracinement" (épreuve d'état no.4)

Medium:

Eau-forte

Size:

31.5 x 22.5 cm

Year:

1976

State:

Parfait

Signature:

Signé à la main par l'artiste à l'avant

Certificate include:

Non

Exchange possible:

Non

Seller's City / Region:

Kamouraska

Province:

Québec
[Œuvre sous passe-partout / Facture fournie]
[Évaluée au prix de 2 000$]
Diplômée de l'École des beaux-arts de Montréal en 1954, Janine Leroux-Guillaume (1927-2018) se perfectionne ensuite en gravure auprès d'Albert Dumouchel et de Léon Bellefleur, à l'École des arts graphiques de Montréal. Plusieurs séjours à Paris l'amènent ensuite à travailler au célèbre atelier Lacourière-Frélaut. Plus d'une centaine d'expositions individuelles, collectives et itinérantes ponctuent sa longue carrière artistique. Ses œuvres font partie de collections muséales importantes, dont celles du Musée des beaux-arts du Canada et du Musée d'art contemporain de Baie-Saint-Paul, des collections de Loto-Québec et de Bibliothèque et Archives nationales du Québec.
________________
Pour toute question, écrivez-nous à communication@kamouraska.org
Le Centre d'art de Kamouraska est un OBNL et organisme de bienfaisance enregistrée oeuvrant dans le domaine de l'art actuel. Le fruit des ventes d'œuvres d'art est directement réinvesti dans son développement et dans la poursuite de sa mission d'accessibilité et d'éducation artistique.
ArtAds.ca is not a broker or auction service. No commissions or other fees are charged on sales made possible by using this site. To buy or obtain details about a work of art, you can contact the advertiser directly, without intermediaries.