Artwork for sale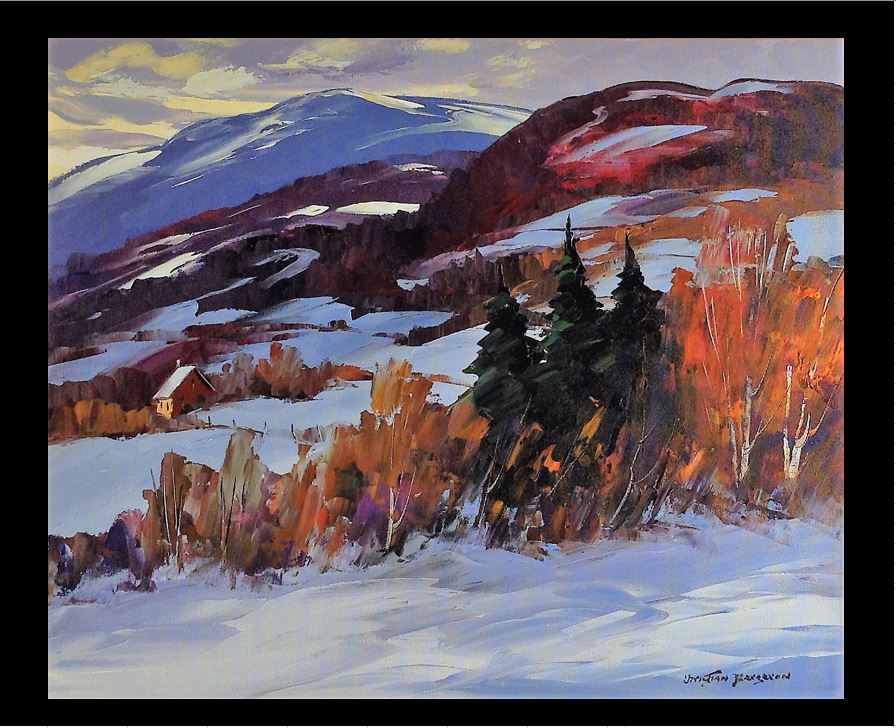 Seller type:

Collectionneur / Amateur d'art

Style:

Figuratif

Category:

Peinture originale

Title:

non titrée

Medium:

Acrylique sur toile

Size:

20 x 24 po.

State:

Parfait

Signature:

Signé à la main par l'artiste à l'avant

Certificate include:

Non

Exchange possible:

Non

Seller's City / Region:

Boucherville

Province:

Québec
English below
Prix : 1 200 $
Ce tableau peut être expédié partout au Québec par courrier recommandé dans un caisson de bois fait sur mesure pour un total de 95 $
Christian Bergeron (1945 – )
Non titré
Quelle splendide scène avec ses coloris automnales éclatants et sa perspective époustouflante. Les montagnes sont envoûtantes tellement elles sont belles! Voici une très belle œuvre d'un peintre incontournable dans le marché de l'art au Québec. Le paysage est tellement grandiose que l'on ne remarque pas la maison en bas à gauche. Et que dire du reflet de la brunante sur la neige.
Christian Bergeron est un artiste au sommet de son art qui cumule aujourd'hui plus de 50 ans d'expérience. C'est un coloriste exceptionnel qui maîtrise parfaitement ses coups de spatule. Il réussit à créer des œuvres d'une très grande complexité avec un outil qui nécessite toute une dextérité. Plusieurs disent même qu'il serait un des grands maîtres de la spatule au Canada, rien de moins. On le retrouve dans les plus grandes collections au Canada, aux États-Unis et en Europe et ses œuvres sont toujours en très forte demande partout au pays.
————————————————————–
Price : 1 200 $
This painting can be shipped anywhere in Canada via registered mail in a custom-made wooden crate for a total of 105 $
Christian Bergeron (1945 -)
Untitled
What a splendid scene with its brilliant fall colors and its breathtaking perspective. The mountains are so beautiful that they are totally captivating Here is a very beautiful work from an indispensable painter in the Québec art market. The scenery is so grandiose that you don't notice the house below on the left. And what about the reflection of dusk on the snow.
Christian Bergeron is an artist at the peak of his art who now has more than 50 years of experience. He is an exceptional colourist who perfectly masters his spatula strokes. He succeeds in creating works of great complexity with a tool that requires great dexterity. Many even say that he would be one of the great masters of the spatula in Canada, nothing less. He can be found in the largest collections in Canada, the United States and Europe and his works are still in great demand across the country.
ArtAds.ca is not a broker or auction service. No commissions or other fees are charged on sales made possible by using this site. To buy or obtain details about a work of art, you can contact the advertiser directly, without intermediaries.